Texas Garage Doors uses almost exclusively LiftMaster brand Openers. LiftMaster is the professional-grade sub-sect company of the Chamberlain Group. Kind of like GM and GMC! They are the industry leaders in quality, style, technology, warranty, and much more. Below are some of the residential models Texas Garage Doors is proud to offer.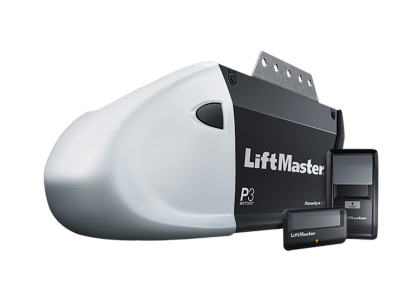 LiftMaster 8165W – ½ hp Chain-Drive; Integrated Wi-Fi, and MyQ Technology
Considered to be the base model or contractor grade opener, the 8156 is a proven workhorse and will open any steel door for years to come.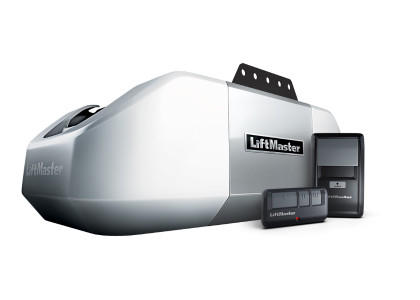 LiftMaster 8355W – ½ hp Belt-Drive; Integrated Wi-Fi, and MyQ Technology
The8355 is the next in line of LiftMaster's touted openers. It has all the power of a workhorse with the added reliability of Belt-Drive. In addition to reliability the belt makes for a much quieter operation. Great for steel and insulated steel doors.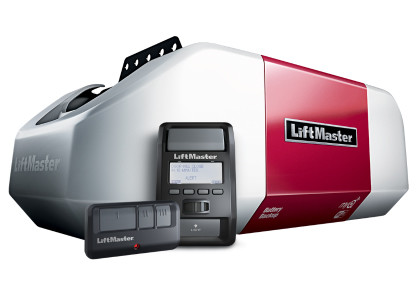 LiftMaster 8550W – ¾ hp Belt-Drive; LCD Smart Wall Button, DC Battery Back-Up System, Integrated Wi-Fi, and MyQ Technology
Probably our most popular opener, the 8550 in charged with a hefty ¾ Horsepower motor connected to the quiet belt-drive system. If that isn't enough, along with many other features the 8550 also packs a DC batter back-up system allowing the user to open and close the garage even if the home's power is out!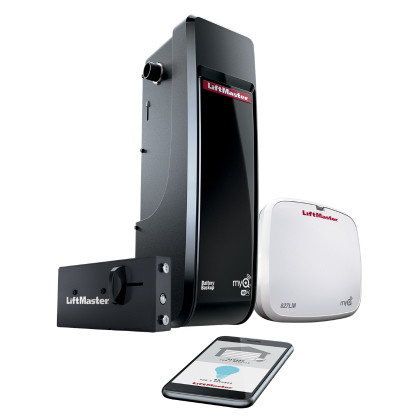 LiftMaster 8500W – ½ hp Wall Mounted Jackshaft opener; LCD Smart Wall Button, DC Battery Back-Up System, Integrated Wi-Fi, and MyQ Technology
Last but not least the newly redesigned 8500 wall mounted jackshaft opener. Probably our favorite at TGD this sleek yet powerful opener can handle just about any weight door you throw at it! Great for use on any installation where center headspace is an issue, and doors using High-Lift or Follow-The-Roofline Track. Install the 8500 and get rid of that bulky overhead opener in the center of your garage.
High-Lift Track Option 
High-lift track raises the height of your garage door while in the "Open" position. This option helps to un-clutter and raise the headspace in your garage. High-Lift is most useful in garages with high ceilings usually 10 to 14 feet or higher. High-lift track requires the use of a wall mounted Jackshaft opener.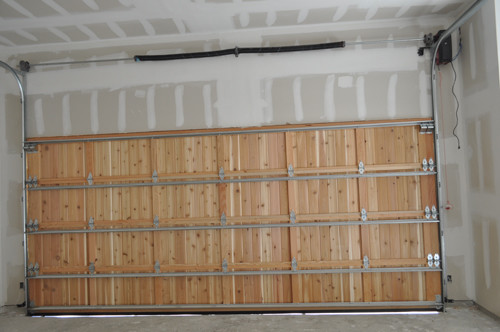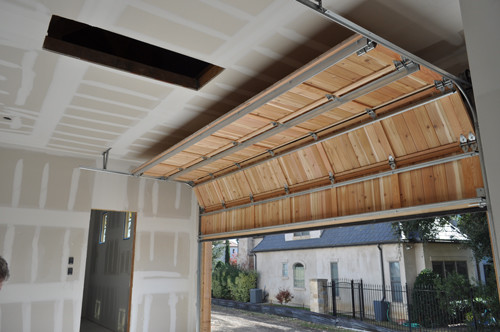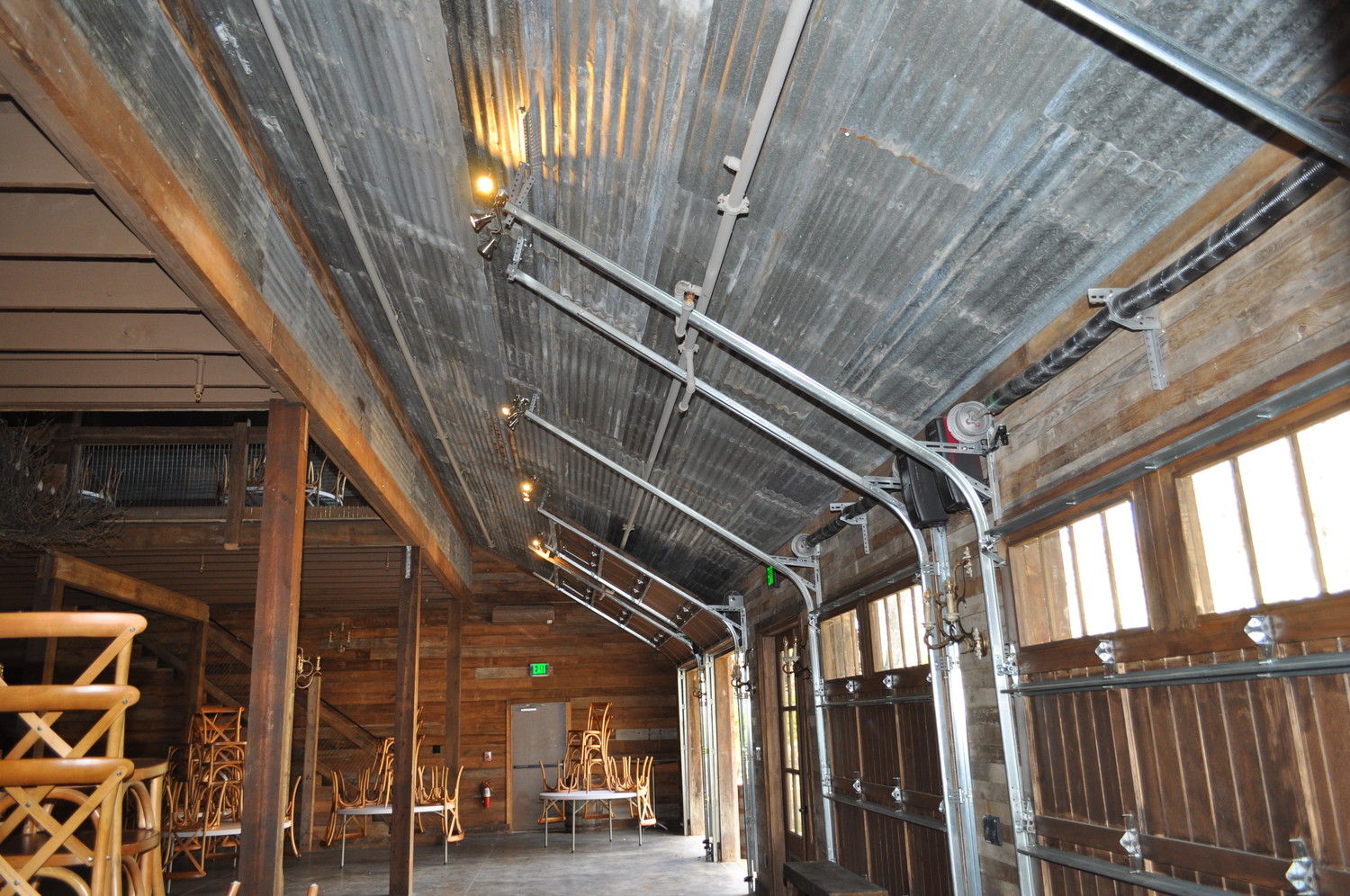 Follow-the-roofline track
Follow-the-roofline track is used for applications where the garage door is to be place beneath a vaulted or pitched ceiling. When open, a standard installation garage door is parallel to the ground slightly above the actual door opening. FTRL allows us to guide the newly installed track along the pitch of the roof for a seamless operation thus freeing up headspace. FTRL track requires the use of a wall mounted Jackshaft opener.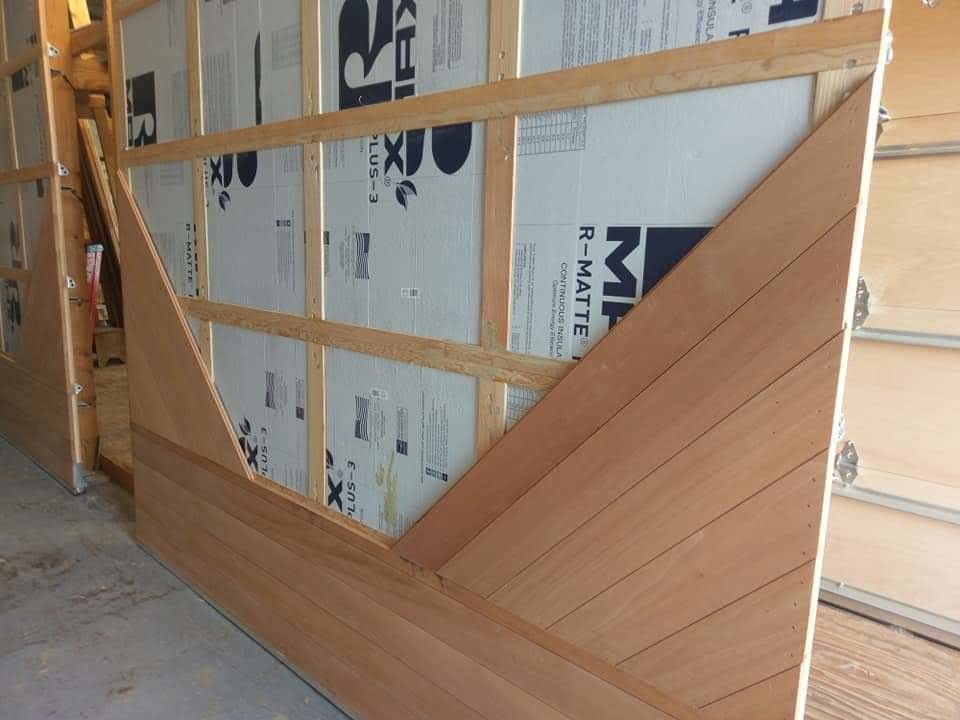 Insulation
Adding insulation to any garage door comes with many benefits. Insulation is available on every type of our garage doors. For our steel and wood doors optional 1"- 2" vinyl backed insulation is available for every size. It will serve to keep spaces cooler or warmer depending on the season using its inherent R-value. Insulation can also cut down on noise pollution and may be a great option for high traffic areas. Optional inert gas filled dual-paned glass is also available for any of Texas Garage Door's Full-View doors.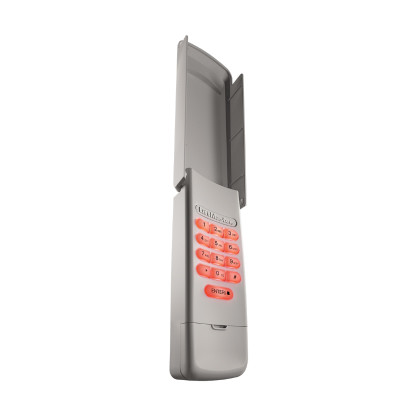 LiftMaster 877LM/MAX 
If you have ever forgotten your keys or have locked yourself out of the house a wireless entry keypad may be the option for you. With LiftMaster's weatherproof keypad it's easy to set a 4-digit pin code allowing access to up to four garage bays. The 877LM/MAX also allows the customer to set temporary pin codes for maintenance access or even houseguests. Ask for more detail when ordering your new garage doors and openers. 
Decorative hinges, handles, pulls, knobs, and dots are a great way to add to your doors aesthetic. Whether you choose a wood or steel garage door there are countless decorative hardware pieces that can help to accent your door and your home.